Our Guest Cabins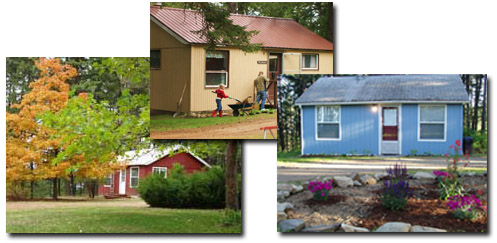 Each Cabin Has a...
LIVING ROOM

The living rooms are comfortable and cozy. The large picture frame windows look out over the lawn, flower beds, and forest. Each has a sleeper sofa for an extra bed. There is a TV with DVD/VCR for movies on the occasional rainy day.

KITCHEN

The kitchen/dining areas are an open floor plan with table and chairs. Each kitchen is well equipped with a microwave, refrigerator, oven, coffeemaker, utensils, plates, etc. All you need to bring is your groceries.

BATHROOM

Each cabin has one bathroom with a shower. Towels are provided and laundered for you. Soap, shampoo and a variety of other toiletries are available for your use.

BEDROOM

Each cabin has one bedroom, each with a queen bed. Linens are provided and laundered for you. The sleeper sofa in the living room is available for additional guests.

TELEPHONE/INTERNET

There is a telephone in each cabin for local calls or calls made with calling cards. Verizon and most other major-network cell phones work from anywhere on the property. We offer free access to our secure wireless Wi-Fi network.
General Information
- Smoking is not allowed in the cabins.
- Most pets are allowed with prior approval.



LAUNDRY

There is no laundry service available. The nearest laundromat is in Spokane, a 25 minute drive from the ranch.

FOOD

Food is not provided. There is a grocery store about 5 miles from here in Suncrest. Also in Suncrest there is a pizza restaurant which will deliver to the ranch, and a fast food restaurant which also serves a full menu breakfast.


THE GREAT OUTDOORS

There are several roads and trails on the property and many great places to sit and enjoy the views from the top of the mountain. There are picnic tables set up near each cabin. Please bring extra lawn chairs if you so desire. Within 15 to 20 minutes (average drive time) from the ranch there are multiple state parks, trails, lakes, and rivers to explore.
Newsletter
Join our Mailing List
---
Follow Us



Donate
Donate by Mail

278k | .pdf |

---
Affiliate Program
If you click these links before you shop we will receive a percentage of what you spend. It costs you nothing extra, and helps fund our ministry. Thanks!
Contact
Quick Message

Phone

Write
Give us a call:
(509) 276-6469
Hours: 8am to 5pm
Pacific Standard Time