Retreats at Living Springs Ranch
Invitations are extended to
Pastors
Missionaries
Counselors
Humanitarian aid workers
Chaplains
Church staff
And others... tell us how you serve the Lord
What to expect
Set aside since 1964 as a retreat for weary Christian workers, Living Springs Ranch offers guest cabins free of charge by the day or up to two weeks at a time. Located on 140 acres of beautiful forest land in the Inland Pacific Northwest, the ranch offers many opportunities for quiet reflection. Mountain roads offer walking trails and the opportunity to enjoy God's creation.
Pastors, missionaries and Christian workers alike have used Living Springs Ranch to rekindle their relationship with the Lord, refresh their marital relationships and rest from their work. Many of those who have visited the Ranch testify to the peace of God which they experience here and discover fresh passion for their respective ministries.
Why do we do it
We feel that the Lord has called us to provide a place of peace and rest for those who have devoted their lives to His service. The many pressures and expectations that Christian workers face today are overwhelming! Those who are constantly giving need to be able to have a place of no demands where they can go to be replenished and renew their energy. Our desire is that Living Springs Ranch will be such a place for them.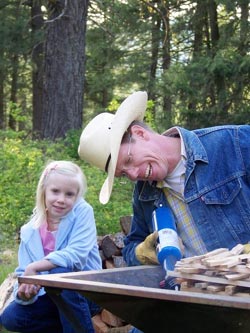 Why it is free
Since its beginning in 1964, Living Springs Ranch retreats have been free of charge for our guests. We believe that God has blessed us with this property in order that it may be a blessing to others. Restorative ministry is vital to the health and wellbeing of ministry workers. God has called us to provide this without burdening any further those who already have given so much. We also realize that with the average ministry worker's salary being less than abundant, many pastors and missionaries simply have no extra money to spend on a retreat like this.
How do we do it
We are funded through Jay's job off of the ranch and from support from others. We are a nonprofit 501(c)3 so all donations are tax deductible. We are working on fundraising to enable us to update and improve our current facilities and help more people more effectively. We hope to be fully funded through donations in the future.
Newsletter
Join our Mailing List
---
Follow Us



Donate
Donate by Mail

278k | .pdf |

---
Affiliate Program
If you click these links before you shop we will receive a percentage of what you spend. It costs you nothing extra, and helps fund our ministry. Thanks!
Contact
Quick Message

Phone

Write
Give us a call:
(509) 276-6469
Hours: 8am to 5pm
Pacific Standard Time